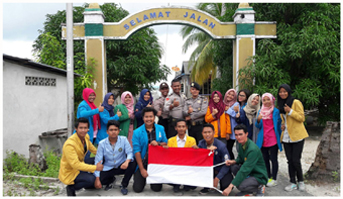 Students of Communication Sciences FISIP Unsoed just did Nationality dedication through service learning programs in the province of Riau Islands on July 25 to August 25, 2016. KKN Program of Kemenristekdikti was attended by 675 students from 33 universities in Indonesia, one of which is Unsoed which sent delegates amounted to 14 students.
"Really exciting…was really feels devotion because it is placed in 40 locations Leading Disadvantaged And Isolated Island (3T) at the end of Indonesia. Unforgettable experience anyway. "Said Salsabila Ainurrohman, Communication Studies student who is the only delegate the National KKN 2016 from FISIP Unsoed.
Nationality KKN 2016 program is an annual program of Kemenristekdikti, where this year the theme was the 'Leading Island Marine Ecotourism Development of Disadvantaged And Isolated (3T) Riau Islands Province Community-Based Strategies Maintaining Sovereignty Homeland'. Through this theme, students participating in the KKN-KB in 2016 is expected to be an agent community motivators in the outer islands of Indonesia that could help develop the potential of Ecotourism Maritims.
Delegates FISIP Unsoed the Salsabila Ainurrohman familiarly called Caca is placed on the island of Batam city Pemping directly adjacent to Singapore. In practice, Caca and his 15 teammates who come from 11 different Universities run 9 program of work that focuses on the development of Marine Ecotourism in Pemping Island.

Caca recognizes that the provision of science in the Department of Communication Studies, is very much helpful to practice directly to the public at the National KKN. Among them are managing websites, making posters, apply the science communication community development, public relations, and others. By getting the opportunity to attend the National KKN, the science has been obtained finally channeled, as well as many new knowledge gained to exchange ideas and communicate with delegates from other universities.

"Through the National KKN, I learned many things about the real life of society 3T. The temptation border region is very challenging sense of nationalism. It still want to linger there, and practice knowledge learned in society. Hopefully next year communications student Unsoed could return to participate in service learning activities ethnicity 2017. "Caca said excitedly.

Fisip Unsoed, Onward Never Surrender!